NEWS

02.10.17: Successful rally return for Becky
Eastoft rally driver Becky Kirvan-Rodgers made a successful return to competition on last weekend's Trackrod Rally Yorkshire, finishing sixth in class on her first event for almost six years.


Other than a quick test session the week before Becky had not driven her APD Communications-supported Ford Fiesta ST since Wales Rally GB in 2011 and there was no chance to gently get used to driving on gravel again with the opening test being the long Langdale stage, the same place she rolled her car last time she competed on the event.

Fortunately there were no such dramas this time and Becky and co-driver Chris Ridge emerged unscathed although the car was having gearbox problems, jumping out of first and second gear which caused them to lose time. The problems continued in stage two, Staindale, before the crew headed to service.

"I was a bit nervous at the start," said Becky. "Our pre-event test went well but actually competing is a different matter. I'd have preferred a nice easy short stage to start with but we were straight into Langdale. I enjoyed it though and managed to get into a good rhythm."

"The gearbox problem was frustrating, there are a lot of first and second gear corners in Yorkshire forests so it was far from ideal. Our service crew did their best to fix the issue in service but it couldn't be sorted without taking the box out of the car and we only had a 30 minute service halt, so we had no choice but to carry on and work around it."
After service the crews headed west for stages in Gale Rigg and Cropton forests before a final stage in Dalby.

"Gale Rigg and Cropton went well although the gearbox problem got worse which hampered our pace. Dalby had been used by the historic cars the night before and it was very muddy and slippery. We nearly went off on one corner but I kept my foot down and managed to get some grip which pulled us round."

"It felt great to get to the finish, especially after my last outing on Trackrod rally ended with me upside down off the road. The stages were a huge challenge with the road surface changing very quickly from one straight to the next, but I really enjoyed the event and I've definitely got the bug back. Hopefully I'll be able to do more events next year. Thanks to Chris and all of the Becky Kirvan Rallying team and thank you too to APD Communications, without whom I would not have been able to do the event."

Please visit www.beckykirvan.co.uk or www.facebook.com/beckykirvanrallying to keep up to date with Becky's rallying.
25.09.17: Becky to make rally return in Yorkshire
After over five years away from the driving seat North Lincolnshire's Becky Kirvan-Rodgers will make her return to rally action next weekend at Trackrod Rally Yorkshire.
Becky, from Eastoft, last competed on the world championship Wales Rally GB event in 2011 where she won her class in her Ford Fiesta ST. Since then she has taken time out from competing although her car has still been used, most recently in the ST Trophy championship by husband Tim.
She had been looking at making a comeback in 2018 but an approach by Hull-based APD Communications to offer sponsorship support for her to compete on Trackrod Rally Yorkshire brought forward her plans.
"After doing the BRC Challenge championship and Wales Rally GB in 2011 I had a break from competing to bring up our two children," said Becky. "I've still been involved in the sport though, supporting Tim as he did selected events in the ST championship."
"I was looking at getting a budget together to do a few events next season when APD Communications contacted me. We've put a deal together to run the Fiesta on Rally Yorkshire which is great as it's my local event."
"As well as supporting me APD have also provided their Artemis telematics and crash detection kit for the car which will monitor things like revs, braking and cornering. It's the first time the kit has been in a rally car, I'm proud to be the first person to use it and the team at APD are excited to see the data we produce."
"It's going to be quite a challenge to compete again, especially as I've been away for so long. We did have a very successful test day in Tong forest last week though so that blew away a few cobwebs! I'm really looking forward to Rally Yorkshire, I love stages such as Langdale and Dalby."
The event starts on Saturday morning from Filey and it takes place in the forests around Pickering.
Please visit www.beckykirvan.co.uk or www.facebook.com/beckykirvanrallying to keep up to date with Becky's rallying.


18.09.17:

Hull company's cutting edge technology to be tested at internationally-renowned rally.



Cutting-edge technology developed by a Hull-based company will be pushed to the limits during an internationally-renowned rally.

APD Communications is backing East Yorkshire driver, Becky Kirvan-Rodgers, in her comeback race, Rally Yorkshire, with the company's smart technology on board.

One of the UK's few women rally drivers, Becky will drive an M-Sport built 2.0 litre Fiesta ST, fitted with APD's technology designed to monitor and improve drivers' behaviour.
She will test the kit to the extremes, racing at speeds of over 90mph through forests, so data on acceleration, braking and revving can be recorded and analysed.

Mrs Kirvan-Rodgers said: "I'm super excited about this partnership with APD. What we learn from testing might just help me to make small, but significant, changes, for example in my timing of braking at corners, that could give me an edge in the rally."

The technology she will be using is called Artemis. Built specifically for emergency services, it is live in more than 10,000 vehicles, providing visibility for police cars – one in two UK police forces employ APD technology – and other emergency vehicles throughout Britain.

It is used to collect complex vehicle data, in order to reduce fleet costs, improve driver behaviour, track vehicles and provide evidential data should a crash happen.

The driver said: "With all the bumps, jumps and surface changes you get in rallying and the extremes of braking and accelerating, it really will be put through its paces."

It has also allowed her to make her comeback to rallying, an expensive sport, after a break of five years to have her two children.

Founded by two academics from the University of Hull, APD still has a 100-strong digital team based in its birthplace, but also operate internationally.

APD Marketing and Sales Manager Rhiannon Beeson describes the relationship between the Inglemire Lane firm and Ms Kirvan Rodgers as a 'win-win' exchange.

She said: "We're delighted to support Becky as a talented local competitor and this is a really innovative and fun way to put our technology to the test.

"We get to try out the technology under extreme conditions and Becky gets the support from us to do what she loves doing, so it's a real win-win.

"The Artemis system and XDR black box have been operational in thousands of police vehicles over the past few years, delivering consistent performance even in high-seed pursuits and high-impact collisions. We're excited to see the different types of data produced in a competitive rally environment."

APD's technology is used from ensuring the safe running of the London Underground, which uses the technology to track train locations and support control rooms across the 250-mile network, to powering mission-critical control rooms in Sweden, Ireland and Dubai Airport – the world's busiest passenger airport.

The rally, which will take place on September 29 and 30, is based around the coastal town of Filey.

26.08.12: BKR at the Ormskirk Motorfest!
Less than four weeks after giving birth Becky managed to fit in her racesuit to take part in the Ormskirk Motorfest. Becky and her Fiesta were invited to the very popular town centre event by the organisers and, as well as the car being on display, she also drove several parade laps on a route around the closed public road.
Becky and the team had a brilliant day and enjoyed meeting so many people - sorry we ran out of posters and postcards, we did not think there would be such a demand!
The team are now making plans which should hopefully see Becky make a return to competition in 2013.
Here are a couple of photos from the day, please see the team Facebook page for more!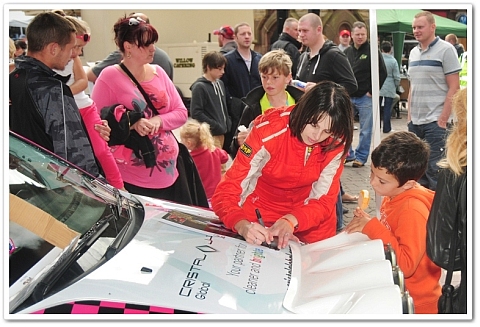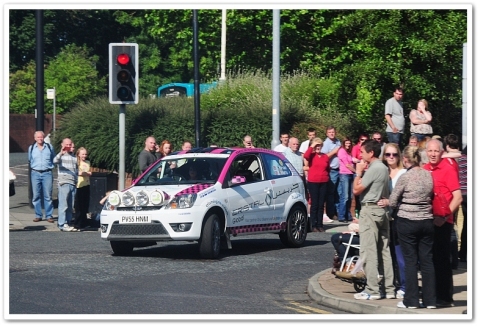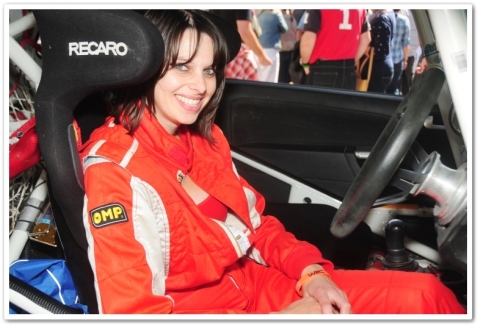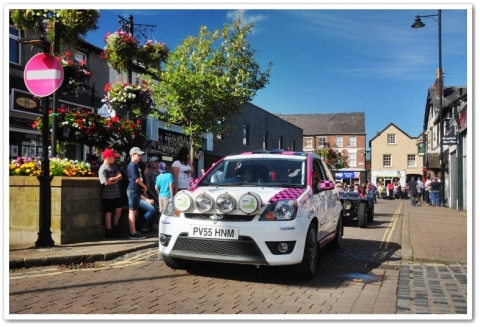 14.11.11: Becky battles to World Rally Championship success
Rally driver Becky Kirvan ended her 2011 season in style last weekend when she successfully completed Britain's round of the World Rally Championship, Wales Rally GB. The four-day event proved to be a very tough test with several of the world championship's leading crews failing to reach the end but Becky and co-driver Will Rogers battled through to finish in 39th place and first in class.
Day one of the rally took place in North Wales with the first two stages being a blast around the Great Orme tarmac toll road near Llandudno. Although this was a short stage it was very tricky with lots of twists and turns and unforgiving kerbs. With the brakes on her Cristal Global-backed Ford Fiesta not feeling quite right part way through the test Becky drove cautiously to make sure she got to the end of the Orme stages.
The crews then headed to Clocaenog for a long forest stage in the dark. Fog made visibility difficult but, after adjusting the brake bias, Becky had no problems and returned to Llandudno for the overnight halt in 51st place.
"I was pretty tense before the start of the Orme so it was good to finally get going after all the preparation work for the rally", said Becky. "Other than the brake issue we had a troublefree run through the stages. The darkness and fog in Clocaenog was very challenging and I was pleased to emerge unscathed."
Eight stages in Dyfi and Dyfnant forests greeted the crews on day two. Conditions worsened through the day with heavy rain and mist making driving hazardous and, with running near the back of the field, Becky faced the added challenge of a very cut-up road surface.
"The conditions in the later stages on day two were the worst I have ever competed in. It was impossible to see where the track went due to the thick fog and on top of that we had heavy rain and the darkness to contend with so we slowed right down as we did not want to risk crashing out. There were cars off all over the place and we did not want to join them!"
Blue sky and sunshine replaced the previous days rain and mist for day three with six stages scheduled including two runs of the spectator-packed Sweet Lamb. The first stage of the day was in Hafren forest and, at over 20 miles long, it was the longest of the event. Becky's only problem was getting caught up by a foreign crew in a faster car. Despite indicating that she was pulling over to let them past, the driver behind drove into the rear of the Fiesta causing damage to the bumper. The rest of the day went well although a puncture in the second Sweet Lamb stage resulted in a large time loss. Despite this Becky ended the third day in 46th place.
"The third day could not have been more different in terms of the weather, visibility was good and it was a pleasure to drive the stages. In particular the stretch of stage through the wind turbines in Myherin was brilliant. I also enjoyed the first run of Sweet Lamb so I was disappointed to have to limp through on the second run of the stage due to our puncture. I could not understand why the crew drove into the back of us in Hafren, I indicated to pull over as soon as they appeared in my mirrors so I think causing damage to my car was completely unnecessary and something I have never encountered with any British drivers."
"After service in Builth Wells at the end of the day all the cars and crews travelled to Cardiff where we drove down a crowd-lined street to the overnight halt, the atmosphere was brilliant!"
The fourth and final day took place on and around the Epynt military ranges near Llandovery. The opening two stages, Halfway and Crychan, both mixed tarmac sections with the more usual gravel forest tracks. Becky had a couple of spins on the tarmac as it had been made extremely slippery by the cars running ahead of her. One spin resulted in her needing the spectators to help extract her from a ditch, luckily there was no shortage of spectators on this rally! Other than that she had a clear run through the stages and moved up to 39th place by the end of the event which was rounded off with a ceremonial finish in the grounds of Cardiff castle.
"I am thrilled to have got a finish on a world championship event, it's the perfect end to what has been a great rally season, I would never have thought at the start of the year that I'd be BRC Challenge Ladies Champion and a WRC class winner! It was a real challenge for me, the rally was a lot longer than any other I've done so I'm delighted to have made it to the finish ramp. I'd like to thank Cristal Global for their support which enabled me to do the event and all the Rally4Real team who worked very hard both before and during the rally on the car. Thanks also to Will for co-driving, he did a great job. I shall be doing all I can to try to find a budget to enable me to return to the event next year!"
04.11.11: Becky set for her toughest ever rally challenge

Rally driver Becky Kirvan will start her toughest ever rally challenge next week when she takes part in Britain's round of the World Rally Championship, Wales Rally GB.
Becky has had a very busy time since her last event in September as her Ford Fiesta ST car has had to be rebuilt following an accident when the brakes failed. After many hours hard work by the Rally4Real team the car is now ready for action again.
"The car was pretty badly damaged in the crash," said Becky. "It needed a new section of roll cage, a new roof, door, door pillar and wing and several other parts. The gearbox has also been rebuilt to ensure it was in perfect working order for the challenging event ahead."
With usual co-driver Kaz Watts ruled out of the event due to a neck injury Becky will have Will Rogers on the pacenotes. It will be the first time the pairing has competed together so the plan is to treat the first stages cautiously.
"I've not driven competitively since the accident and there has been no time to do any testing. With the four days of competition on Rally GB and the notorious treacherous conditions that this rally has, I do not want to risk an accident early on so I'll take my time to get used to Will and to driving at speed again."
Becky has attracted a new sponsor for the event, Cristal Global. Cristal Global, who have a plant in Stallingborough, employs nearly 4,000 people on five continents and they are the second largest titanium dioxide producer in the world, the largest producer of merchant titanium chemicals and the leading manufacturer of speciality titanium products.
"Without the support of Cristal Global it would be impossible for me to do the event so I am extremely grateful to them. It was a dream for me to compete on a World Championship event and Cristal Global have made that dream come true. It's going to be a real challenge for me and the team as it is by far the longest and toughest event I have competed on but I cannot wait to get to the start!"
The rally starts in Llandudno on Thursday 10 November and from there the crews will head south to compete in some of the most famous forest rally stages in Wales, including Clocaenog, Dyfi and Crychan. The successful crews will finish in Cardiff on Sunday.